Recruitment requirements will be released in the following ways: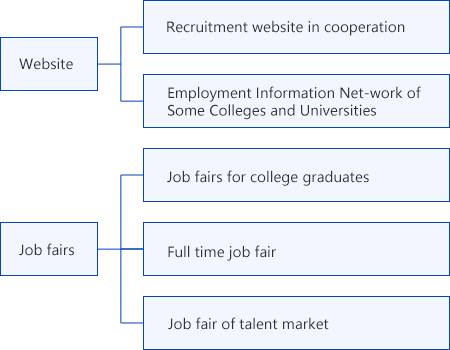 In addition, all recruitment information can be queried on the website.
Candidates can post resumes according to the required positions released by the company. For job resumes that are not being released, we will put them into the talent pool.
Among them, the recruitment websites under cooperation at the current stage are Zhaopin and 51job. In addition, the information and contact information published by other recruitment websites need to be verified and confirmed with us.
Within working days, the recruitment director will update and maintain the published recruitment information every day, and preliminarily screen the submitted resumes. Within 10 working days after the resume is delivered, we will notify the suitable person to have an interview by phone, email or SMS. For the temporarily unsuitable person, we will store your information in our human resources information database, and we will contact you in time when there are cooperation opportunities.
The person receiving the interview notice shall attend the interview on time within the agreed time. The interview can be divided into written examination, preliminary examination and re examination according to the position difference. The first time interviewees need to prepare the following items:
a.The original and copy of the graduation certificate (degree certificates and copies are also required for those with bachelor's degree or above);
b. Other qualification certificates (such as professional title certificate, English grade certificate, computer grade certificate, accounting certificate, etc.);
c. Original and copy of ID card.
Within 5 working days after the interview, we will notify the qualified interviewees by phone or SMS. Those who do not receive phone calls or text messages will be deemed as having failed the interview, and their resumes will be included in the talent pool. When there is a suitable position, they will contact you again.
Among them, the new graduates who pass the interview shall mail the tripartite agreement (the personal information and company information shall be completed) to the company within 5 working days after receiving the notice. If the tripartite agreement is not mailed within 5 days and the reason is not explained, it will be deemed as giving up the opportunity.
6. Probation requirements
The qualified personnel of the investigation and interview shall report to the office according to the employment notice time in the telephone, SMS or email. Those who do not report at the specified time without special reasons shall be deemed to have given up.
The probation period is 2 to 3 months according to different posts. During this period, it is required to participate in training and internship according to the regulations. Qualified employees will become regular employees, and unqualified employees will extend the internship period or terminate the contract.